Do you feel that your yard is a source of pride or shame? No matter how you answer, learning about landscaping is useful as a homeowner. Taking good care of your lawn and garden does more for you than just making your home look good. It helps you appreciate the value of your property. Plus, it can even help increase the value too. We recommend breaking down landscaping into several categories. It's easier to learn that way.
Most Important Landscaping Concepts to Consider
When you consider landscaping, break it down into its constituent elements. This will give you a structure on which you can build your knowledge. As you gain experience, you will realize how different concepts interact with each other. It takes a trained eye to become a master landscaper. Do you feel like you have what it takes?
Soil & Soil Cover
The most basic element of any landscaping project will be the soil. There are many types of soil, including sand, loam, and clay.
Soil is often covered with mulch or pebbles in areas where no ground-cover vegetation is wanted. Many people also choose to cover large areas of their yards in grasses that can be mowed and walked on, in other words, a lawn. All of these options have their own benefits and drawbacks.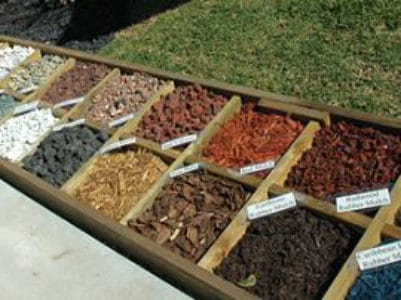 Grasses:
Grass requires the most maintenance out of all soil covers. You need to ensure that whichever grass you select can grow in your area. Some grasses do better in certain environments than others. If you do not select the species of grass native to your area, it could be a waste of money.
Mulches:
Mulches are a great way to protect the soil in plant beds. They create a contrast from surrounding lawns, protect the plants from drying out, and come in many different colors for some fun in your landscaping design.  If you are concerned about how much water you use, mulch is a good choice for your garden beds. Keep in mind you'll need to add new mulch every year or so.
Pebbles & Stone:
Pebbles and stone are a popular choice in many Southwest Florida yards. They are growing in popularity all over the country. Many people find them more attractive than mulch. They are low-maintenance compared to a grass lawn and mulch and last a long time. However, installation can be costlier. Enjoy the versatility of many colors and sizes.
Hardscape Materials
Pavers and walls set the lines on the canvas that is your backyard. There is plenty of different materials and projects to choose from. You could create something simple like a patio with a fire pit or go wild with pathways and retaining walls to alter a sloped terrain. It's the perfect way to showcase your personality and upgrade your home.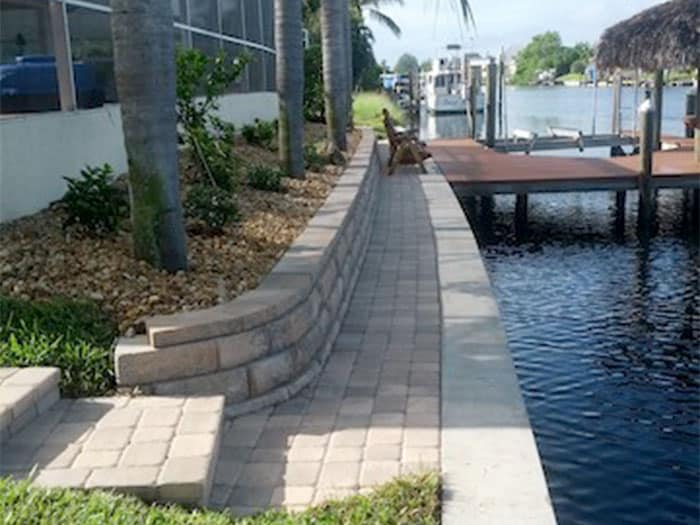 Concrete:
Concrete is one of the most affordable materials you can work with. If you are looking to cover the ground without breaking the bank, it's the most affordable solution. It's versatile and works well in many scenarios. You can use poured concrete for driveways, pathways and also for creating edgers for plant beds. Pre-formed concrete blocks are great for inexpensive stepping-stone pathways.
Asphalt:
Asphalt is best for large areas where you plan on driving vehicles. It's relatively impervious to cracks and impacts. However, asphalt isn't very commonly used in Southwest Florida as a residential solution.
Pavers:
Pavers are the perfect choice for people that want to showcase a little elegance. They are relatively affordable and come in many colors, materials, and styles. Use them for patios, pool decks, driveways, pathways, and more.
Blocks:
One of the most popular ways to build retaining walls in Southwest Florida is using blocks. They are versatile and can be stacked one, two, three, or more high depending on your needs. Work in straight lines, or build a curve. They are especially great to level out slopes leading down to canal seawalls or a terraced look to a front yard plant bed.
Fencing
Fences create a boundary between your property and the outside world. You could use them as a practical solution to keep your pets within the yard. Fences can also serve as a great design accent.
Vanity Fencing:
Vanity fencing is popular for people that love a well-manicured yard. These fences do not serve a practical purpose. However, that does not mean they are purposeless. Instead, people get these so they can create a beautiful perimeter for their property or other boundaries. You can find vanity fences available in many different elegant styles.
Privacy Fencing:
Privacy fencing creates a more practical fencing solution. These fences are sturdy and block out the view of your yard. They serve two purposes, primarily. Privacy fences are great at creating a sense of separation between your yard and the neighbors. Plus, you can use these to keep all of your animals safely on your property. Popular choices are wood and vinyl.
Chain Link Fencing:
For a practical and affordable solution, consider a 4- or 6-foot chainlink fence. It will keep pets inside without breaking the bank. You can also add slats or vines to add privacy.
Lighting
Lighting is one of the most powerful tools you have when creating nighttime landscaping appeal.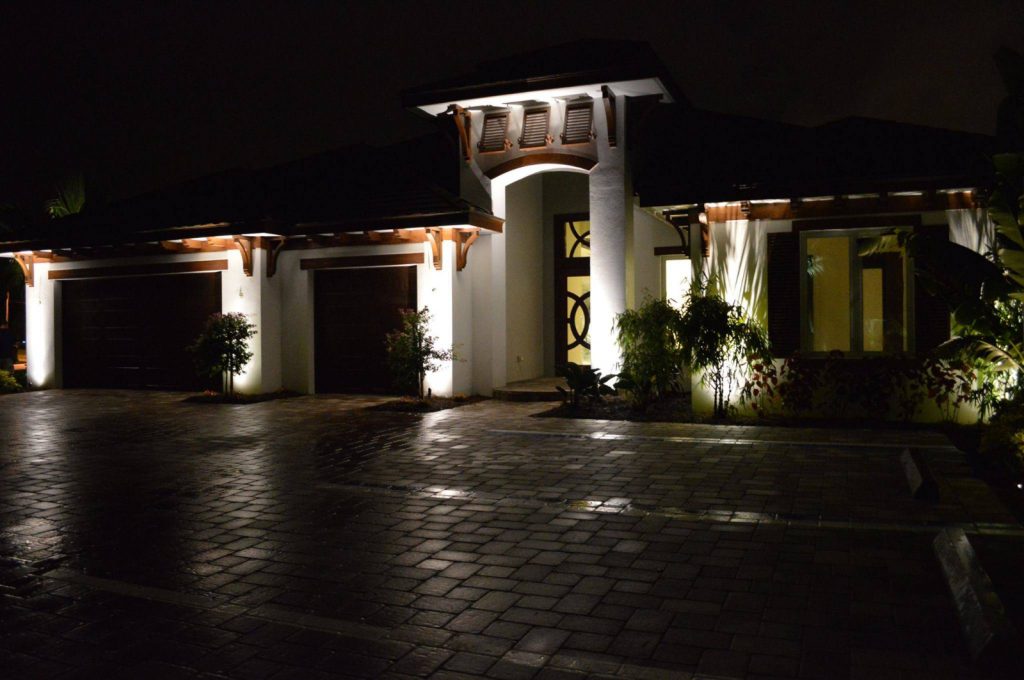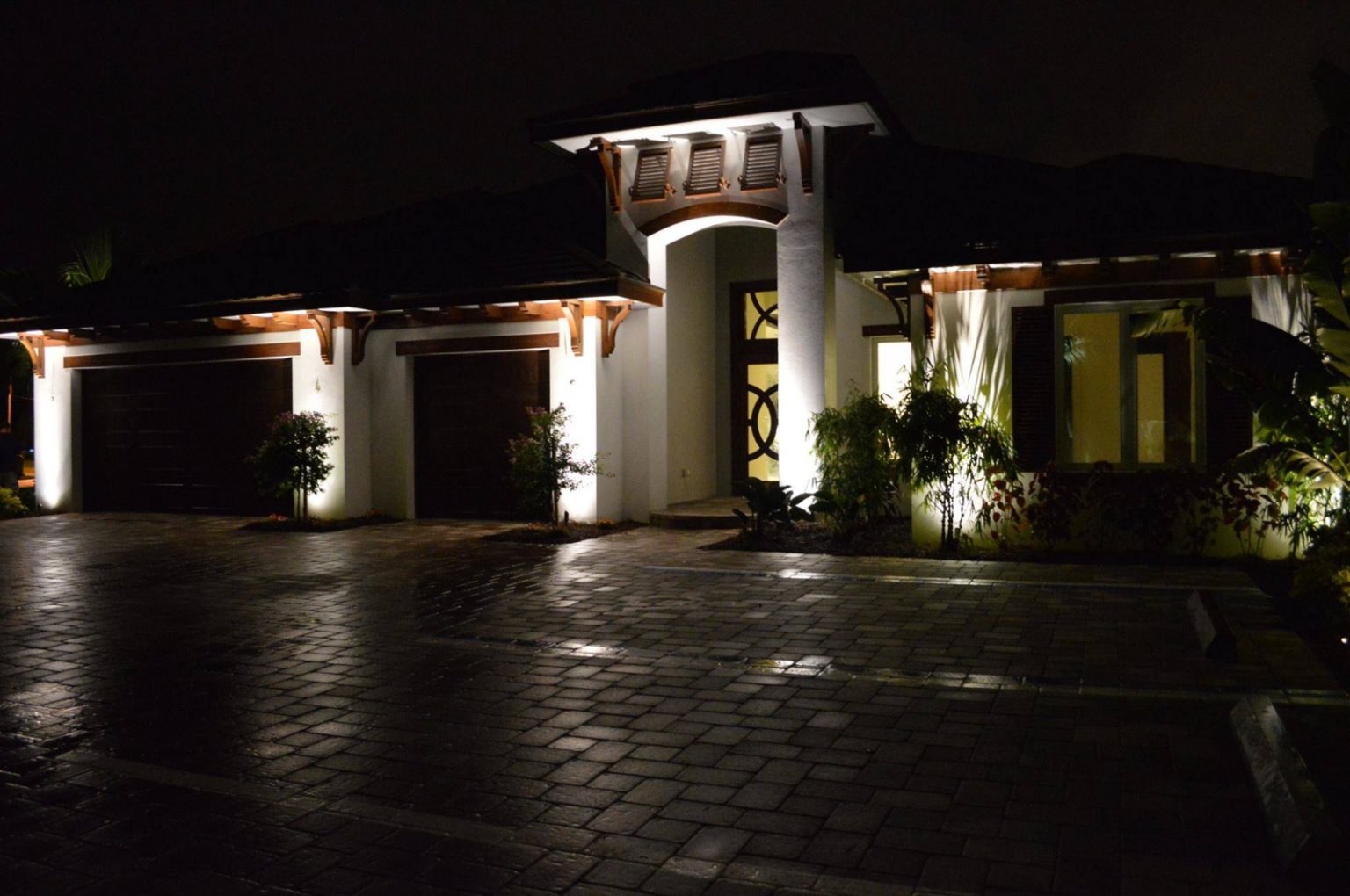 Spotlights:
Otherwise known as uplights, downlights, or directional lights, these fixtures highlight certain features of your landscaping such as trees.
Path and Area lights:
Path lights aim down and illuminate where to walk. Area lights also point down but light up the entire area around the fixture – for example, a garden bed.
Floodlights:
Often brighter than spotlights, floodlights are great to add security. They often have motion sensors so that they only light up when needed.
Well Lights
Otherwise, known as in-grade lights, these lights are flush with the surface. Below ground level in order to allow foot traffic or other things like lawn-mowers to pass over without damaging them.
Deck Lights & Step Lights
As the names imply, these are specifically designed to light up these areas. Deck lights attach to posts since most decks are adjacent to railings. Step lights affix to the vertical part of each step or adjacent walls to light up where your foot goes.
Hardscape Lights
Referring to landscape features made of cement or stone, hardscapes include patios, driveways, walkways, steps, walls, pool decks, outdoor kitchens, or fireplaces. Most hardscape lights are those that attach to the underside of capstones and overhangs. They are easy to hide and provide subtle floodlighting of hardscape surfaces.
Plants
You should have a good base for your yard by now. It's time for you to begin selecting flora. There are many different types of plants from which you can choose. Each will serve a specific purpose. The best landscaping projects start with the end result in mind.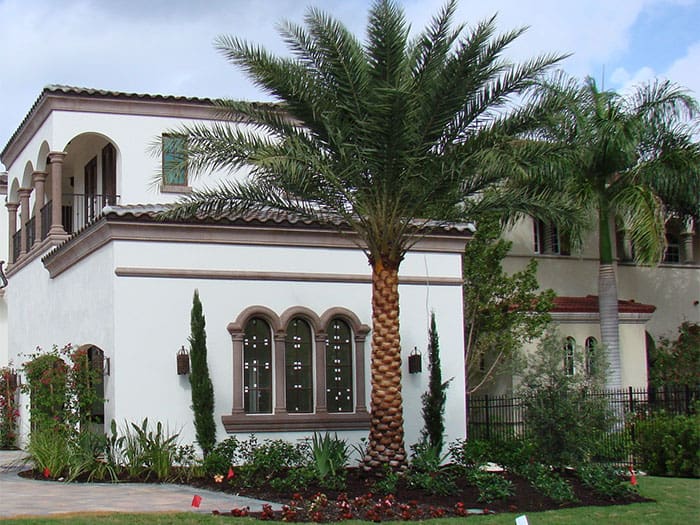 Shrubbery:
Shrubs are great at creating a barrier. You can get a thicker shrub to create a visual barrier. Otherwise, you can use one with thin branches, so the barrier is only partial.
Trees:
Trees take a long time to grow. You could plant a few larger trees, although they are more expensive than saplings. It's wise to think carefully about which trees you plant and where, as they could become overwhelming as they get big if the space is too small. Consider palms, which lend the perfect tropical feel to a Southwest Florida yard, but tend to take up less room than some other types of trees.
Flowers:
You get beautiful flowering trees, bushes, and smaller plants. Use these to carefully add highlights around your yard as needed.
Extravagant Features
The final touches to any landscaping project are what really ties everything together. What do you plan on doing with your yard? If you plan on bringing people over, we recommend one of the following to complete the project.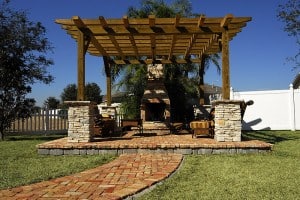 Firepits:
Fire pits are particularly popular even in warm Florida. Most people tend to enjoy sitting around the fire with their friends. These are also relatively straightforward projects. If you enjoy socializing, it's a great low-cost feature to install.
Outdoor Kitchens:
Do you enjoy cooking? Would you like to cook outside? If so, you should create an outdoor kitchen. These are a little more expensive than a fire pit. However, they are great for entertaining your guests and enjoying your beautiful Florida backyard oasis.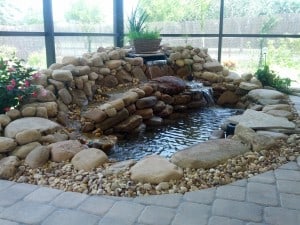 Fountains & Ponds:
Do you love the thought of peace and tranquility? Would you like to spend time outside with the calming background sound of water falling? If so, you should create a fountain or waterfall. Koi ponds also add a serene touch.
When combined, all the elements discussed above work together to create an outdoor space anyone can enjoy. If coming up with a plan, installing everything, and maintaining your newly landscaped yard feels overwhelming, do not worry… R&R Sprinkler and Landscape has been serving Southwest Florida through three generations and would love to make your landscaping dreams a reality.