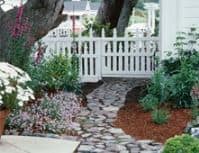 Farmhouse, country and rustic landscape design have many common characteristics that help us lump them into this landscape category.
The Style of Country and Rustic Landscaping
Rustic and country landscape design is much fussier and natural than most of the other types of landscape design.  Even if you don't live in a rural area, designing your landscaping in this style will make you feel like you live in one.  There are flowing lines, architecture, walkways and design in plantings.  You use natural edging in lieu or metal or plastic edging. It's overall an unstructured design style.
Elements of Nature Used In Country and Rustic Landscaping
There is a lot of stone and wood work used in the design of farmhouse, country and rustic landscaping.  There are bold stone structures incorporated into many designs such as fireplaces, fire pits, walkway, patios and stacked stone walls.  You can even find railroad trusses used as seating, parking bumpers or to create an elevated landscape bed.
It's common to find either white picket fences or weather wood fences along the edges of the property with landscape beds that are full of trinkets and antiques like wagon wheels and watering cans.
Other Elements Used in Farmhouse, Country and Rustic Landscape Design
Again, stonework is heavily used in these landscape design styles.  A beautiful flagstone stacked wall helps create a raised landscape bed.  Cobblestone walkways, boulders and stacked stone all add to the overall design scheme.
Mixed into the landscaping you can find an old truck that has been converted into a focal point filled with colorful plantings, a wagon wheel laying among full ground covering, an antique wheel barrow, an oak barrel, bird houses, bird baths and even a tire or tree swing.
Some of the popular types of furniture used in rustic country outdoor living spaces are wicker sets, cast iron benches, Adirondack seating or wooden rocking chairs.   Some homeowners construct built in benches and waterfalls made from (of course) big bold pieces of boulders and stone.
The Color Palettes of Rustic, Country and Farmhouse Landscape Design
This type of landscape design calls for a soft color palette like whites, light blues, natural rusts, almonds, tans and browns.  You often see a farmhouse painted white with black shutters.  Or a rustic log cabin with a hunter green front door.  It's that balance of mostly neutral coloring with small incorporations of a darker color.
Landscaping Materials Recommended for Farmhouse, Rustic and Country Landscape Design
Keeping the landscape design unsculptured and natural is the goal of a landscape design in this style.  There should be a lot of shade trees like oaks, pines, red woods, dog woods and maples.  Colorful plants and shrubs should be added like daisies, lilac, hydrangeas and dandelions.  Other shrubs used are azaeleas, ferns, elderberry and fountain grasses.
Finally….. let moss grow!  This adds even more charm to the already perfect rustic, country or farmhouse landscaping.