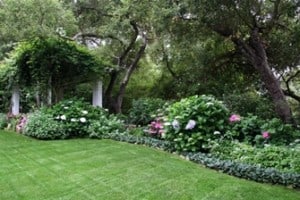 While there are many differences in the landscape style of Victorian, English, French and Colonial designs, they share many similarities.
A successful landscape design for these styles involves incorporating the balance of being elaborate along with the art of being structured so that the landscaping looks intentional and not messy.
Landscaping Elements in Victorian, English, French and Colonial Landscaping
There is a balance between well sculpted and manicured hedges partnered with very elaborate, full and lush landscaping with these styles.  There are lots of full flowering trees, plants and shrubs.  Vegetable gardens, rose gardens and herb gardens are often incorporated in a Victorian or Colonial themed landscape.  They love to have a trellis with flowing, vining plants like bougainvilleas.
Common types of landscaping elements used with Victorian, English, French or Colonial landscaping are trees such as boxwoods and magnolias.  Flowering shrubs such as lilacs, hydrangea, peony, lavender, bougainvilleas, and perennials are just a few of the elaborate flowering plants used.  Other plant materials such as ferns, wax myrtles, azaleas and sage are found often as well.
The key to the balance between being elaborate and being organized is in the style of repeat plantings that a landscape designer will implement.  Repeat plantings lend continuity to the landscape design even if the plants are fussy and the landscaping is highly embellished.
The Vision of Victorian, English, French or Colonial Landscaping
These types of landscaping are elaborate.  However, they use natural resources to divide the property into different spaces much the way furniture divides the living areas of our homes.  They will use sculpted hedges, walkways, well defined garden areas, and hardscape structures to define nooks within the larger area.
Common Elements Found in Victorian, English, French or Colonial Landscaping
You will often find white picket fences with full colorful plant beds.  There are bird baths, bird houses, fountains, statues, urns on pedestals, watering cans and wheel barrows as decorative accents.  Some of the structures that are popular are arbors, trellises, gazebos, and carved columns as added architectural elements.
For furniture you will often find elements such as an iron cafe set with table and chairs or white painted wood benches.  In addition the landscape designer will add walkways made from brick, pavers and cobblestone.