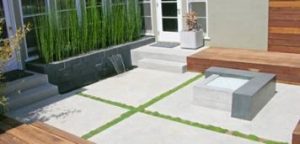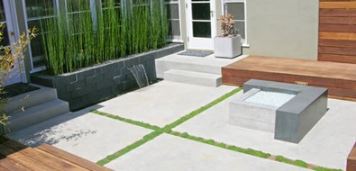 A popular landscape design style in the fast paced areas such as L.A., Miami or in larger cities and busier living areas is the contemporary and modern landscape design.
Lines and Shapes of Contemporary Landscape Designs
Contemporary designed landscaping consists of straight bold designs elements. Over sized geometric shapes are used as accents, borders, fountains and fire pits.  The pathways are often straight and well defined.  Everything is more sleek and sophisticated with very little fuss including the plants. Often large pieces of cut concrete are used as closely placed stepping stones with dark colored stone or slate pieces or narrow strips of grass in lieu of a large lawn area.
Colors Used in Modern Landscape Design
The color palette used in modern and contemporary designs are blacks and silvers with consistent accents of bright colors such as blues, oranges and limes.  For example its more common to have darker ground materials such as rock or mulch and darker colored furniture but adding brightly colored cushions, outdoor art, or containers.  The key is to keep the brightly colored items in the same shade so the space remains cohesive and keeps the clean appearance.
Hardscape vs.  Landscape in Contemporary and Modern Landscape Design
There is more of an emphasis on hardscape elements then there is on landscape elements when the design is contemporary and modern.  It's more common to have built in furniture, a sleek retaining wall and pathways of stone and concrete in lieu of large spreads of grass, fussy lawn furniture or elaborate plants.  Landscaping shrubs are very minimalistic with most being various types of ornamental grasses.
The look that every landscape designer is trying to achieve with their contemporary landscape design is that of an organized, well kept, controlled and sleek appearance.  The plants used in modern landscaping are more sculpted and clean looking verses a shrub that will constantly need trimmed and sculpted.
Common Landscape Plants Used in Modern Landscaping
Various types of ornamental grasses are the most commonly used plant materials in modern and contemporary landscaping.   A lot of folks use certain types of palms like Dracaena Palms and Sago Palms.  Olive trees, agave plants, yucca and citrus trees are often used as well.  To add a pop of color in the sea of minimal landscaping homeowners add colorful plants like lavender, orchids and birds of paradise.