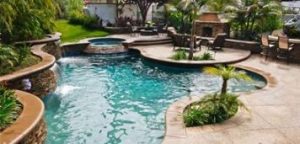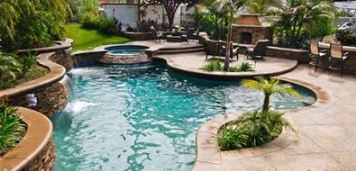 Tropical and coastal landscape design is our favorite and most administered of all of the landscape designs used in Southwest Florida.
Landscaping Materials Used in Tropical and Coastal Landscape Design
Palm trees, palm trees and more palm trees!  There is not a tropical or coastal landscape design that doesn't use various combinations of palm trees.  This design style calls for lush, bold combinations of mass plantings.  The plant species used should flow in the breeze, be whimsical or portray a feeling of relaxation.
Popular landscaping elements used in tropical and coastal landscaping design other than palm trees are bromeliads, ferns, begonias, bougainvilleas, bird of paradise, ginger, and coco plums.
The perfect ground covering for a tropical landscaping is crushed shell although we do install an awful lot of rock and mulch.  Adequate ground cover helps keep the ground moist and protects the landscaping.
The selected landscaping should be low growing and drought tolerant.  Coastal and tropical areas incur tropical storms and hurricanes so the landscaping should be able to handle hot, humid, harsh weather conditions.
The Color Palette of Tropical and Coastal Landscaping
When you think of a color palette for tropical and coastal landscaping design think of Jimmy Buffet.  It should be a mix of paler (not pastel) colors mixed with bold bright colors.  Oranges, pinks, blues, yellows, and teals of all shading can be used to bring the landscaping together.
Popular Elements To Accent A Coastal and Tropical Landscape Design
There is nothing that emits a feeling of laid back and tropical the way the presence of a hammock does.   Add some bamboo columns to a thatched roof tiki hut surrounded by citronella torches for the ultimate outdoor tropical environment.  Sea shells, anchors and other maritime artifacts are also great additions to landscape beds.  Teak and rattan furniture is a popular furniture choice to create the coastal feel.  Adding colorful cushions, pillows, umbrellas and design accents will make your space even more amazing.
An Outdoor Living Space Is a Must In Tropical and Coastal Landscaping Design
The weather conditions for coastal and tropical environments enables us to spend a lot more time outdoors than other climates.  An outdoor living area is a must.  A lot of homes located in tropical climates have swimming pools, screened in lanais and other areas to do outdoor entertaining. We added an outdoor patio adjacent to our screen in lanai as an additional outdoor area.  Its the perfect place to sit and enjoy the sunset.
We Are Experienced In Coastal and Tropical Landscaping
R & R Sprinkler and Landscape is most experienced and comfortable in this style of landscape but is perfectly capable of meeting any other design style expectations.  Contact us today for a free estimate.