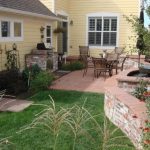 When landscaping for a small outdoor space planning, design and selection are all important elements that need to work together to make the project a reality.  You'll need to select elements that will work in the space in the long run.  No one wants to go through the time and expense of installing outdoor landscaping in a small space that they will just need to rip out in a year because it's grown too large for the space or that hasn't survived.
Choosing The Right Species To Landscape Small Outdoor Spaces
In small outdoor spaces size matters greatly.  Whether it be the size of a patio, tree, shrub or structure, inches are more important than feet.  They could mean the difference between making the space work or not.
Choose interesting species of plants that will work together to create a cohesive environment.  You'll need to select smaller trees that have a smaller root system to avoid future damage to masonry and structure.  Choose the dwarf version of popular shrubbery.  They won't grow as large and won't require nearly as much pruning to keep your space in order.  Use colorful perennials, but sparingly.  In a large space you have to plant large groups of colorful plantings to make an impact.  In small outdoor space a few colorful flowering plants will make a sufficient impact.
Choose Landscape Plants That Are Suitable For The Outdoor Space
Because small outdoor space are restricted in space there may be some elements you need to consider when selecting landscaping materials.  For example, is the area sunny or shady.  If it's shady most of the time due to the shadow of the home, privacy wall or fence then you'll need to select plants that like to be in the shade.  If you have full sun on the area throughout the day then you will need to select plants that will survive constant heat and exposure.
R & R Sprinkler and Landscape Can Assist In Landscaping Small Outdoor Spaces
Landscaping a small outdoor space can be a challenging and frustrating task.  Failure to plan accordingly will result in a great misuse of your financial resource accompanied by the headache of having to re-construct the space. Consult R & R Sprinkler and Landscape when you are ready to landscape your small outdoor space.  With our knowledgeable staff we will be able to advise you of the right types of tree, plants and shrubs in the correct quantities.  We can make landscaping your small outdoor space an easy and painless process.