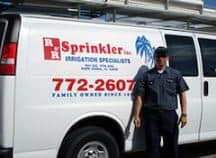 With so many landscape and irrigation contractors in Southwest Florida its confusing and frustrating to know who to hire to perform the work.  Sometimes it can feel like they are all out there to take advantage of the unsuspecting or uneducated homeowner.  There are several aspects to research and questions to ask:
Hire A Licensed Contractor
Each company must obtain an occupational license in ALL the counties and cities they are performing work.  However, an irrigation contractor must also hold a Specialty Contractor license in addition to an Occupational License.  In order to receive this license they must be tested for competency and must work under and experienced mentor for set periods of time.  This makes sense since we are tampering with the precious natural resource of water.  Ask for their Occupational and Specialty Contractor License #.  If they are reluctant to provide this information you should question whether they are actually licensed.  Contrary to what they will tell you, lawn maintenance technicians are NOT permitted to work on sprinkler systems without having a Specialty Contractor's License, not even to change a sprinkler head.  We are licensed in all the surrounding cities and counties of Southwest Florida.
Do They Carry Liability AND Worker's Compensation Insurance?
In today's climate of ligation this is one of the most important questions you can ask.  If an accident occurs while a contractor is on your property and they don't carry proper insurance you are the liable party.  Don't be shy about asking for a copy of their insurance policy or even asking for a certificate of insurance naming yourself and your property as additional insured.  This is a mandatory requirement when working on a commercial property. Carrying certain levels of Workers Compensation Insurance is a State requirement. We carry very adequate levels of liability insurance and all State required levels of Worker's Compensation Insurance.
Longevity of Business, References and Community Involvement
Ask about their company.  How long has the company has been in business?  R & R Sprinkler and Landscape has been serving Lee, Charlotte and Collier County since 1972.  Check for testimonials on their website or ask for a list of referrals to call.  A reputable company will not mind giving you this information since they have nothing to hide.  If a company even hesitates in providing references this should raise some red flags. Ask them if they have are involved in any community organizations.  Most companies want to give back to their community.  Currently R & R Sprinkler and Landscape is involved in the CCCIA (Cape Coral Contractor's Industry Association), The Greater Fort Myers Chamber of Commerce and The Florida Irrigation Society.
Professional Impression and Appearance
In today's climate a website is a great indication of the caliper of the business.  An active, up to date website with a portfolio, testimonials and company information is a necessity.  Did a real person answer the phone.  At R & R Sprinkler and Landscape we strive to have a live person answer the phone.  We don't want to send you into the land of automation.  We don't even send you to voice mail.  We do it the old fashion way by taking a message.  Treating our customers as important individuals is one of the factors that has kept us in business so long.  Does the company have professionally labeled property vehicles and equipment?  Even if the vehicle isn't elaborately lettered it should at a minimum have the name of the company, the phone number and the website.  It is a state requirement that they have their license numbers on each vehicle.  A company that cares about appearance will also have their employees in uniforms.
Site Visitation for Job Estimates
Think twice if an irrigation or landscape contractor is willing to give you a bid over the phone without even seeing your property.  Danger, danger, danger!  We all want instant gratification but no matter how much of an inconvenience it might be for you, a contractor should perform a thorough site visit prior to submitting any type of estimate.
The Low Bidder Isn't Always The Best Choice
Don't automatically choose the irrigation or landscape contractor based on price.  They may be  missing parts, substituting for items quoted but not used, are using substandard materials, aren't figuring in enough parts or aren't providing a full scope project.  Looking at landscape and sprinkler estimates can be overwhelming but be sure you are comparing apples to apples.  A good contractor won't mind taking the time to explain every detail to you.  One contractor's price could be higher because they are using a larger plant that will suite your property better.  There's a huge difference in price and appearance between a 1 gallon, 3 gallon or 7 gallon shrub.  This is where we find we get undercut on landscape projects.  Another contractor is coming in with a fabulous price.  However, they are planning to install puny, inadequate 1 gallon shrubs that will take years to mature into a hedge while we are installing larger, more mature, better suited materials.  It will come back to bite you in quality, appearance or in change orders.
Permits?
Are they pulling the necessary permits and following local ordinances.  Most counties and cities will require an permit to install sod or to install an irrigation system.  Landscaping permits are more of a gray area.  Don't be caught off guard by having work done that needed to be permitted.  Your job could be red tagged (shut down) and you and the contractor could be fined.
In Summary
We hope this list of helpful tips gets you started in the right direction toward selecting a reputable contractor for your landscaping and irrigation needs.  We'd love to be one of the companies you take into consideration.