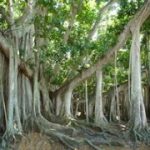 Thomas Alva Edison was a winter resident of Fort Myers Florida in the 1920's.  We all know him as The Inventor of the light bulb.  His home is now a national piece of history.  On this property there are many historical buildings, houses and gardens.
Where Is The Edison Ford Winter Estates Located?
The Edison Ford Winter Estates is located in the heart of historic Fort Myers, Florida which resides in Lee County.  The physical address is 2350 McGregor Blvd., Fort Myers 33901.
The History of The Edison Home
Thomas Edison joined the Fort Myers community in the early 1900's.  He loved inventing but he also loved the outdoors and gardening.  The Edison Estates Gardens is one of the most famous gardens in Southwest Florida.  On the 20 acre piece of land there are laboratories, museums, houses and gardens.  Some of the original trees and garden features that were planted by Thomas Edison himself are still standing to this day, in particular The Edison Moonlight Garden.  In 1925 he planted a 4 foot tall banyan tree.  This tree now expands to over an acre of the property.
The Gardens At The Edison Estates
The Edison Estates spans 20 acres, has 1700 types of trees and plants from 6 different continents.  They include but are not limited to 50 varieties of palm trees, several types of bromeliads,  a variety of fruit trees and many other flowering trees and shrubs.  The garden staff collect seeds from the onsite plants and cultivate them in greenhouses on the property which they later sell.
Ways The Edison Estates Are Supported
The Edison Estates are supported in much that same way any other historical property is:  through membership, donations, guided tours and special events.  In addition they offer workshops, summer camps for kids, group homes school programs, field trips, a retail store, meetings, private parties, wedding receptions and corporate meetings.  As mentioned above, they collect seeds from plants and trees on the property to cultivate in onsite green houses which they will eventually sell to support the upkeep and operation of the gardens.

The Edison Fort Estates is a nationally recognized property chocked full of historical data, artifacts and a wealth of information.  We are blessed to have Edison's much loved garden to visit as one of our day tours.  Be sure you take the time to visit and appreciate The Gardens At The Edison Fort Winter Estates.