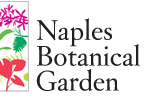 The goal of The Naples Botanical Gardens is to educate the public about nature and plant life through the display and education of many varieties of plant life, bird life, natural habitats and more.  They desire to invoke feelings of bliss, happiness and delight for the folks that visit.
Where is Naples Botanical Gardens Located?
Naples Botanical Gardens in located in South Naples, Florida which resides in Collier County.  The address is 4820 Bayshore Drive, Naples, 34112.
Historical Information
It started out as a dream of 8 Naples residents in 1933.  They wanted to create a world class botanical garden that would educate and inspire the public.
In 2000 The Kapnick Family donated a 170 acre tract of land that included an old strip mall, a parking lot and a mass of land that already housed several natural habitats.  A small portion of the site was developed to give the public a taste of what was to come.
In 2008 more of the land was put into development which to date includes 6 cultivated gardens, 2-1/2 miles of walking trails and 90 acres of nature preserves.
In the future the vision of the Naples Botanical Gardens is to construct a welcome center, to collect admission, house a full retail store, provide more meeting spaces, have an auditorium as a destination for traveling exhibits and special performances, an expanded cafe' and to provide many other visitor accommodations.  The members want their Garden to come a place that the community gathers for venues and special events.
How Is Naples Botanical Gardens Funded?
Naples Botanical Gardens relies on memberships, donations and revenue generated from the retail sales of the store, cafe and rental of the facility for special events.  They also provide various types of group tours and scheduled events.
Educational Programs
The educational program are geared toward adults, teachers, students, children, and families.  They educate on sustainable living, species of birds for bird watchers as well as programs to learn and understand the habitats of the gardens.  Their ultimate goal is to educate the public on conservation and preservation.
There Are 7 Types of Gardens
There are 7 different gardens located on the property of The Naples Botanical Gardens.  There is an Asian Garden, a Brazilian Garden, A Caribbean Garden, A Children's Garden, A Florida Garden, A Preserve and a Water Garden.
We are blessed to have such a beautiful piece of paradise located almost at our back door.  Make time in your schedule to enjoy The Naples Botanical Garden.