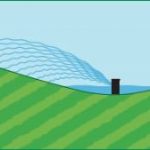 Occasionally in Southwest Florida we come across hills and slopes.  Gather they were probably man made since we live in the flattest place on earth.  Perhaps you have a sprinkler head that was placed at the base of a hill or in a slope.  This can cause several issues in the long run.
Possible Problems Caused By A Sprinkler Head In A Slope
The first most obvious problem of having a sprinkler head in a slope is that  water will pool around it.   If you have a proper sprinkler head with a good check valve system then the water will not flush back into the water flow.  Pooling water can lead to fungus growth or can even kill the grass in the area.  If you notice your grass turning a yellowish or grayish color then you know it's dying.
How To Solve The Issue of Having A Sprinkler Head In A Slope
There are a couple of options to solve having a sprinkler head in a slope.  Check with a reputable, licensed and insured irrigation contractor like R & R Sprinkler and Landscape to see if you have the right type of rotor head or mist head in that part of the property.  If you do then they can explore the opportunity of changing out the inside nozzle to one that delivers water at a slower rate to allow for better soak time and possibly less pooling.  Lastly, you could explore the possibility of relocating the sprinkler head to an area that is not so sloped.
Be sure to contact R & R Sprinkler and Landscape if you need assistance with a sprinkler head located in a sloped area.