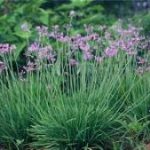 Society garlic is a pretty and useful flowering perennial plant.  It has a long lean grayish green leaf with a delicate lilac flower.  It has the right combination of size with a nice splash of lavender color.  It has the ability to fill a space but in a whimsical way.
Landscapers like to plant society garlic in rows or as a border along landscape beds that are away from the entrance of a property.  It's not that they aren't pretty, they are very attractive.  It's not that they are aggressive, they'll never grow larger than 2′ wide or 2′ high at their largest size.  It's not even that they are hard to maintain, they are a very hardy plant.  It's that some property owners may not like the smell of them.
They were named "Society" garlic because they are said to not have as offensive an odor as it's true garlic cousin.  However, some homeowners claim they still stink.  The stink is not to be wasted though, it's useful in keeping various types of animals and pests away.
The purple flower actually has a sweet smell but the bulb and leaves have a pungent odor that is stronger than that of the flower.  Planting society garlic at an entrance door or near windows would cause the odor to be constantly introduced to visitors entering the property.  Planting them toward the edge of the property is a great compromise.
Society garlic are easy to grow and love sunlight.  This makes them a great Florida landscape plant.  We see a lot of homeowners plant them around their mailboxes.  It's far enough away from the front door for the smell to not bother them but close enough to enjoy their beauty.  Since they love sunlight, planting them near the a mail box or property edge is a great location for them. Some homeowners even think that planting society garlic around their mailboxes or property edges keeps neighborhood dogs from urinating on their property, an added bonus.
Society garlic is native to South Africa.  The Dutch named it "Society" Garlic because it's said to have a lighter, more polite, less offensive smell then true garlic does.  They bloom from late Spring into Fall months.  If you would like to incorporate society garlic to your landscaping but aren't sure of the correct quantity, size or location feel free to contact us.  Stinky or not, we think they are overall great choice to add to any Florida property.