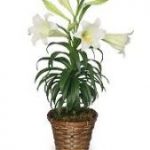 Easter is March 31st this year of 2013.  One of the most notable symbols of Spring and of Easter is the potted Easter Lily.  Just like potted Poinsettias are an easy landscape solution to add a splash of Christmas to your outdoor landscaping; so are potted Easter Lilies for Easter.
Although our family operates a landscape and irrigation company, I don't have even an ounce of a green thumb.  Nor do I have the character quality of patience when it comes to planting and maintaining new landscaping.  Adding a self contained plant to my exterior landscaping in the form of a Easter Lily provides me with instant gratification while displaying a landscape element symbolizing The Resurrection and Spring season.
Easter Lilies are often sold as fund raisers in many churches.  Families are asked to purchase them "In Memory" of a loved one with the funds most often going to support a charity or a mission.  These lilies surround the crosses and fill the altar with a sea of snow white flowers that emit a sweet fragrance.  They remind of new life and give us a feeling of peace and hope.
I know very soon we'll see the stores and garden centers with rows of these beautiful plants with long snowy white trumpeted flowers.  For an easy addition to your landscaping add several of these containered Easter Lilies to the outside of your property as a simple and hassle free seasonal decoration.