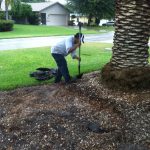 Leveling out a landscape island makes the ground more even with the surrounding property.  It's not necessary to make the ground completely level with the adjacent trees or palms but it's not necessary to have a mountain in your front year either.
Keeping a small even slope from the base of the tree or palm to the outside edge of the landscape island gives the area a slope to drain off during rainstorms and keeps the water from pooling at the base of the tree.
Leveling off a drastic rise in the ground of a landscape island will eliminate a mound in the center of your yard.  It will also help the ground cover stay in place.  Rock placed on a high sloped island is likely to shift and dislodge during inclimate weather.
Bumpy landscape islands don't look well thought out.  Why spend the money to add, maintain or renovate a landscape island if it's going to look sloppy.  Taking the extra time to remove or relocate some dirt to make it a more level ground will be worth the end result.
If you are thinking of adding a landscape island around a tree or palm in your front yard, R & R Sprinkler and Landscape can help you determine the right slope, size and shape to compliment your property.