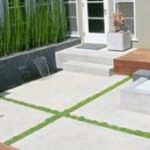 Just because you have a small yard doesn't mean you can't landscape it and landscape it well.  Condos, townhouses and homes in a zero lot line community are restricted in space and size when it comes to landscaping.  Planning and design is crucial if you want to properly landscape a small yard.
Scale Matters
Smaller spaces mean you don't need to use large items.  A 25 gallon oak tree is going to overpower a 100 square foot area.  Use dwarf shrubs, small scale landscape trees and flowering elements like perennials.  They are easier to maintain, don't grow as large and have a smaller root system to avoid future damage to masonry and structure.
Use Straight Lines Instead of Curved Lines
Round shapes and curved lines waste valuable space.  For landscape beds use straight lines.  Design patios in a rectangular pattern.   Use square features for fire pits, fountains or containers.
Repetition Helps Keep The Space Looking Clean
Repeating colors, textures and patterns will help tie the space together.  It's better for the space to co-exist than it is for it to compete with itself.  All of the elements should relate to each other.  Using containers is a great way to add a pop of color and a great focal point that can easily be repeated throughout the space.  Select plants that resemble each other is shading and texture.  Using like materials for pavers and stepping stones is another great way to tie the space together.
Bring Elements From The Inside Out
Chances are that if you have a small yard then it is in close proximity to the interior of the property.  If you have a red kitchen then you should consider bringing pops of red into your back yard to tie the two spaces together.  If you have a travertine floor in the house going out to the garden then add some stone work in the form of a wall, walkway or bench in the same shading.
Built Ins Are Great Space Savers
Built in benches and landscape beds are a great dual purpose item.  They serve as seating as well as a focal point of the space.  They can be installed into the landscaped area without intruding in the walk way.  They are weather resilient, long lasting and durable.
In Summary
When landscaping a small back yard remember to stay in scale.  Keep the space simple by using like items.  Repeat colors and textures often to tie the space together and use built ins when possible.   Planning and designing landscaping for a small back yard can be frustrating and challenging.  R & R Sprinkler and Landscape is up to the challenge.  With our computer aided drafting program you will be able to see the space before we create it.  Trust our experience and creativity to create a breath taking landscaped area for your small space.