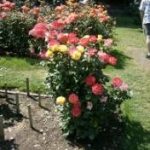 Roses grow year round in South Florida and bloom at least 9 out of 12 months of the year.  The key to roses thriving in Florida is to select the right species of roses.  There are dozens of species of roses.  Some of the types that grow best in South Florida are Bourbons, Chinas, Bermudas, Tea and Shrub roses.  We'll go in depth about these species of roses in later blogs.
Where To Plant Roses in South Florida
Roses can be incorporated into South Florida plant beds, can be planted in containers or can be made into their own rose garden.  Many garden clubs treasure and boast about their elite and beautiful rose gardens.  Some even charge admission for the public to walk through.
The Right Conditions To Grow Roses In South Florida
Roses need at least 6 hours of direct sunlight a day.  Morning sunlight is best because it dries the dew off the petals which reduces the risk of fungus developing.
The soil roses thrive in should be well drained while still maintaining moisture.  Florida soil is not sufficient enough for roses to grow in.  Add compost, manure or peat to Florida soil to get the right nutrients to help roses grow efficiently.
On a weekly basis roses need to be watered, sprayed for insects and groomed.   The best type of watering for roses is a drip or micro irrigation system that waters at the root.  This keeps excess water from sitting on the petals and leaves, protecting them from developing fungus.
When Do Roses Bloom In South Florida
Roses bloom at least 9 months out of the year in South Florida.  The bushes will produce more flowers in the summer months but the ones that bloom in cooler months will be larger with have brighter colors.
I Want  A Rose Garden
If adding a rose garden to your property has been on your wish list let R & R Sprinkler and Landscape assist in the process.  We'll help you pick the best part of your property to install the garden as well as help you select the species of roses that will thrive.  We are also one of the best drip irrigation contractors in South Florida.