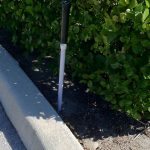 A typical sprinkler head is installed at ground level and is retracted when not in use.  When the irrigation system turns on the sprinkler head pops up out of the ground waters and retreats back into the ground when finished.
Occasionally you will notice a sprinkler head mounted above ground.  These are mounted higher typically because there is a row of shrub or other landscaping that wouldn't get water effectively if the sprinkler head was not mounted up.
Raising sprinkler heads above the normal ground level ensures that all the landscaping in that areas gets adequately watered, not just the  plants that are directly in front of the sprinkler head.
Raising sprinkler heads is also a good idea as your landscaping matures.  That 3 gallon plant was once so small.  Now it's full grown and is blocking the other plants in the area from receiving irrigation because of its new height.  It's not necessary to cut the plant down.  After all, it has taken you years to get it full, mature and beautiful.  Instead, raise the sprinkler head to a new height.
Sprinkler heads come as fixed (in the ground), 4″ or 12″.  R & R Sprinkler and Landscape would be happy to help you renovate your sprinkler heads to accommodate various heights of shrubs and plants.