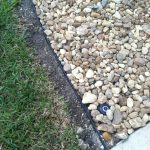 Installing borders around a landscape island or along landscape beds creates a distinct division between the shrubs and ground cover and the grassy areas of the property.  The division may only need to be an aesthetic division or it may need to be functional.  Landscape borders are meant to create organization and order to the overall landscape design.
Aesthetic borders are for appearance.  They are intended to divide different parts of a landscape bed or to separate the landscaping from the lawn.
Functional borders are meant to hold back ground cover from spilling over into another area of the landscaping.  For general purposes, functional landscape borders help to keep  mulch and rock inside the landscape bed and out of the grassy areas.
There are many types of materials that can be used to create a landscape border.
Natural Landscape Border – Natural landscape borders don't require any materials.  It can be as simple as using an edger to create a distinct and definite line in the ground between the landscaping and the grass using no material what so ever.  This is the easiest and least expensive type of landscape border but is also the one that is the hardest to maintain.
Curbing:  Curbing is installed by a mobile unit that is pushed along the border area.  It applies a concrete type product in a straight or wavy application.  Curbing comes in a variety of color choices.  Some curbing companies even offer decorative stampings for added style.
Plastic Landscape Border:  Plastic landscape border is purchased from a landscape supply store.  It provides a low profile division between landscape beds and lawns.  It is generally black.  The ground must be trenched, the border must be inserted and then back-filled enough to hold the border in place.  It's a clean and simple landscape border.
Creative Landscape Borders:  Creative landscape borders can be a row of large rocks, pavers lined up, bricks stacked together, railroad ties, watering cans, wind socks, clay pots, and more.  The trick with creative landscape borders is for the pattern or appearance to remain consistent through out the entire property.  Be creative but also be orderly in your design and application.