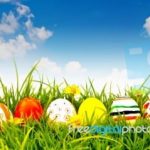 In Southwest Florida our "winter" is coming to an end and the weather is already resembling Spring.  Springs means Easter time.  Easter time means Easter egg hunts.  Easter is March 31st this year and it will be here before you know it.  Don't wait till the last minute to clean up your property.  Start now by asking:
IS YOUR LANDSCAPING READY FOR AN EASTER EGG HUNT?
In winter our lawns and landscaping go dormant and don't require as much attention from us as in the summer months.  Now it's time to start working on them so we are ready for Spring picnics and Easter egg hunts.
Start by pruning dormant trees and bushes.  Next you can clean up any debris left over from winter like fallen leaves or dead branches followed by weeding your flower beds.  If you have mulch in your landscape beds, its a good time to start thinking about refreshing it.  If you have rock, set aside some time to rotate rock with a shovel or rake for a fresh appearance.
Fertilize your yard, add weed control by a professional company if needed.  Consider planting some Spring flowers in landscape beds like begonias, dahlias, daffodils, tulips, hyacinth or lilies by the beginning to mid March.
The most important thing you can do is to NOT WAIT UNTIL THE LAST MINUTE.  If you start doing a few things at a time it will get done gradually and you won't be overwhelmed when you find out the Easter egg hunt really is at your house this year.
If you are thinking about giving your landscaping a facelift but don't know where to start give R & R Sprinkler and Landscape a call.  We can add and renovate so you will have a property you will want to have outdoor gatherings on for the entire season and more.