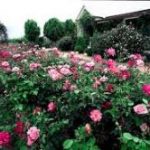 The last Florida friendly rose that we are highlighting this week is The China Rose.  The China Rose also prefers subtropical and temperate climates and will not do well in a cooler atmosphere.
The History Of The China Rose
As it's name indicates, The China Rose originates from China.  These roses appear in artwork as early as 400 to 500 AD.  It's the first documented rose known to repeat bloom.  Having a rose to repeat bloom meant increased production of the flower which led to a wider variety of gene pool and far and wider distribution.
China Roses have a small slender bud that opens up into a larger bloom.  This makes them a perfect flower to use in arrangements.
China Roses Have Unique Fragrant Characteristics
China Roses range in variety of fragrance from no fragrance at all to slightly fragrant to moderately fragrant to full fragrant.  The types of fragrances emitted by the China Rose are also unique.  Some have a fruity smell, some have smells similar to that of spices like pepper and others smell like necatrine.
The China Rose That Develops a Suntan
The China Rose has another unique characteristic, over time it develops a suntan.  It's color deepens as it ages.  Some color changes have been documented to change as drastically as starting from a yellow and ending in a dark crimson by traveling from yellow to orange to pink to red.   Suntanned roses lead to some of the deepest red roses you'll ever find.
Uses Of China Roses
China roses are smaller in stature which makes them ideal to use in containers and landscape pots.  When planted in masses they make great landscape borders.  They also are popular with florists since their large full bloom makes gorgeous table arrangements.  Their flowers and fruits are also widely used for medicinal purposes in the Chinese culture.