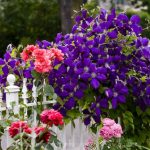 The shrub rose is a rose bush that can handle a variety of climates from cold to hot.  It's one of the hardiest and most diverse of all the rose plant species.  When scientists cannot classify a rose into any other category it gets put in the Shrub Rose category.
How Shrub Roses Are Used In Landscaping
Shrub roses are less formal and unstructured than that of a tea (long stem rose) and aren't as flowing and as climbing as Bourbon Roses.  They are carefree and sporadic.  They can be used as a grouping or as a single plant.  Of all the rose bushes, shrub roses are the best type of rose bush to incorporate into landscaping beds and hedges.  They look fantastic mixed in with other types of shrubs and flowering plants.
Shrub Roses grow from 4′ to 12′ tall and have long far reaching stems.  They appear whimsical and natural and mix well in a variety of settings.
Shrub Roses Have Multiple Uses
In addition to shrub roses being used as decorative additions for landscaping they are also used for cooking and medicinal purposed.  You've heard of Rose Hips haven't you?
The Many Colors Of Shrub Rose
While shrub roses don't come is as large a variety of colors as the tea rose, they still have a quite a variety.  They bloom in reds, pinks, yellows and whites.
Summary of Shrub Roses
Shrub roses are the hardiest and easiest to grow to maintain..  Their robust natures makes them the ideal rose bush for the not so proficient rose cultivator (like me!).