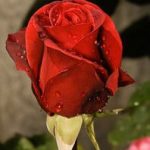 The homeowner that would like to add roses to their landscaping needs to carefully select the species of roses to plant on their property if they'd like them to survive and bloom.  One of the species of roses that has been recommended for Florida landscaping is the Tea Rose.
The History of The Tea Rose
The tea rose was originally cultivated in the Orient but was made popular in France in the 1860's.  The reason its called a tea rose is because it emits a fragrance similar to that of Chinese Black Tea. It is a repeat bloomer but not as vigorous as the Shrub Rose or Bourbon Rose.
Climates The Tea Rose Prefers
The Tea Rose likes a warmer climate and does not tolerate cold climates well.  This makes it an ideal rose plant likely to survive in South Florida with the right care and maintenance.
The Tea Rose Is The Florist's Rose
The Tea Rose is the most popular rose used by florists.  It's the species of roses known to as as the "Long Stem Rose".  They have a high centered, slender bud that blooms in a spiral fashion.  Once bloomed the edges of the petals curl back.  It's the classic form that every florist wants to use in their arrangements and the bouquet of flowers that every girls wants to receive.
The Tea Rose Blooms In A Variety Of Colors
The Tea Rose has a fantastic variety of colors.  There are whites, yellows, coral, peaches, reds, many shades of pink, lavenders and variety of multicolored arrangements.
Tea Roses are the most recognizable and popular species of roses and are suited for Florida landscaping with the proper care and maintenance.