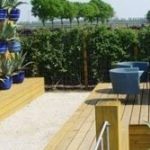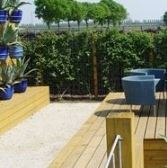 In every large outdoor space there should be a large main focal point supported my many smaller supporting focal points.  For example, a full outdoor kitchen might have a grand main focal point of a large and elaborate proportion like an custom fireplace supported by smaller focal points like garden art work, decorative pillows and other decorative accents.   But this rule doesn't apply to smaller outdoor spaces.
Focal Points for Small Outdoor Spaces
What if you don't have a large space to work with?  Small outdoor spaces shouldn't necessarily have a single large focal point.  It could be over powering to the space.  Instead, incorporate several co-existing smaller focal points.
Small focal points shouldn't always be in your face, front and center.  Instead, tuck them into the environment to provide subtle surprises to those enjoying the space.
Types of Focal Points for Small Outdoor Spaces
The basic rule for outdoor focal points is that they somehow tie together whether it be in style, color, theme, etc.  The elements chosen should be suitable for outdoors.  Creating an outdoor space of your own with multiple small focal points is a work of art.  Don't rush it by thinking you have to find and install all the focal points all at once.  Let it be a fun treasure hunt for you.
You can choose elements like garden art, statues, stone work, ceramics, metal work, containers, stepping stones, small furnishings or even accents for furniture like decorative pillows.  It's important to keep the proportion of the items you add in scale with the size of the space and the size of each other.  Remember, the focal points are not supposed to overpower each other, they are supposed to work together to create a harmonious outdoor atmosphere.  With small spaces, inches matter more than feet.
Where To Look For Outdoor Focal Points For Small Outdoor Spaces
Be creative when searching for the focal points for your small outdoor space.  Go the architectural salvage yards, thrift stores, flea markets, craft shows, consignment stores, garden centers, even look inside your own house.  Re purposed items not only save money, they are one less item put in the land fill.
Avoid purchasing items that are mass produced from big box stores if you are trying to create a unique one of a kind space of your own.  Supporting small local business owners is a useful way to find unique one of a kind pieces and its helps support your local economy.
Splurge On Materials Used For Focal Points In Your Small Outdoor Space
Because your space is small, you don't need as much to fill it.  Because of this, splurge on the materials you purchase.  You can afford to do so since you won't have to purchase a large quantity.  Choose higher end pieces of art or expensive stepping stones.  Spend a little more on that outdoor container than you normally would, after all, you only need one.
Have Fun Choosing Your Focal Points For Your Outdoor Space
Incorporating small co-existing focal points for your outdoor space should be a fun adventure for you.  In the end you have a unique, one of a kind space filled with elements that have been hand chosen by you.  By taking your time to create your space it will be an outdoor space you look forward to spending endless hours in.