Have you ever sat next to a person that looks sloppy?  Their hair is a mess, their clothes are wrinkled and mismatched and they just don't look like they care about their appearance.  I often wonder what the rest of their world looks like if they are comfortable presenting themselves in public as a mess.  On the other hand, you may sit next a person in a 3 piece suit, manicured fingernails, every hair in place.  You just know that the rest of their life is probably immaculate as well.   If you were invited to their homes, which offer would you likely accept based on their exterior appearance?  I think we both know the answer.
Indications Of How Well A Commercial Property Is Maintained
Leasing of commercial office space is major component of the real estate market.  At this point in the economy, it's still very competitive with a ton of empty spaces available to lease.  In order to fill spaces property owners and property managers need to be diligent in the upkeep and improvements of the property.  The interior as well as the exterior needs to be immaculate to obtain a maximum monthly lease rate.  This includes the condition of the interior flooring, how updated the restrooms may be, how fresh the paint is on the inside and out, is the roof watertight, can the air conditioning keep up with the Florida heat and of course how the property looks from the street corner.
Exterior Appearance Reflects On Property Care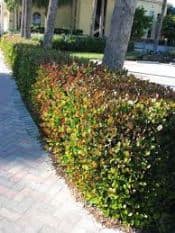 If the outside grass is overgrown or brown, a rental prospect is likely to move onto the next property for better curb appeal.  The same goes for the condition of the landscaping.  I often look at how well the landscape hedges are manicured.  A landscape hedge provides a border or barrier to a commercial property.  A well-maintained landscape hedge indicates that the property owner likes and cares about the first impression his property makes on prospective clients.
On the other hand, an unruly, sloppy, maintained landscape hedge indicates to passerby's that the landlord is cutting corners in the maintenance of his property which further indicates they may be in financial trouble.  If I were looking to lease a commercial space I'd likely pass a property like this right by in favor for a better maintained property.  If they let the landscaping go then they probably haven't fixed the leaking roof either.
Clues To Choosing A Great Commercial Property To Lease
There are lots of clues that will help you determine how well a commercial property is maintained.  Many of them can be observed from the exterior without even viewing the interior structure.  We suggest cluing in on how well the landscaping is maintained, in particular, how well the landscape hedges are manicured.
Paying attention to the small things gives rise to the bigger picture of how well the property is maintained and how much pride the property owner takes in his investment.