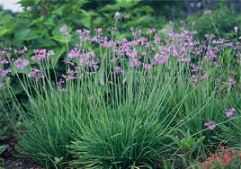 Society garlic is a blooming perennial plant with greenish-gray leaves and lilac flowers.  They are a delicate eye-appealing addition to any landscaping growing only @ 2′.
We don't recommend planting them close to your front door because they are said to have an offensive odor to them.  They are great plants for borders or landscape beds toward the outside edge of a property, great for rock gardens, make great container plants and look fantastic planted around a mailbox.
Society garlic love sunlight and tropical climates.  They are actually native to South Africa.  They will thrive in shady areas but the flowers will not bloom as often as if they were planted in full sunlight.  They are resilient plants, said to be able to survive frosts and light freezes.
Society garlic belong to the lily family.  Another family member of the lily family is the onion.  They are pollinated in the night hours by moths.  Most flowering plants are pollinated during daylight hours by either butterflies or bees.
This nonaggressive plant should be planted at least 6-12″ away from each other.  They usually won't grow more than 2′ wide and 2′ high.  They are easy to grow, preferring light sandy soils.  They can even be grown indoors as long as they are in direct sunlight.
The most popular characteristic about society garlic is that they are said to be a natural pest control solution.  The odor of the plant is said to keep animals and pests away such as deer, rabbits, dogs, cats, groundhogs, moles, snails, snakes, gophers and a variety of bugs.
This is a hardy, attractive, useful plant to add to your Florida landscaping.