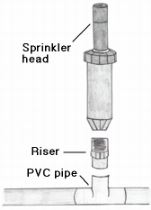 The main parts of an irrigation system are the automatic timer, the control valves and the sprinkler heads.
An automatic timer for an irrigation or sprinkler system is not necessary but sure does make things easier. A timer tells the system when to run and for how long. A good irrigation timer will allow you to input different watering schedules for various areas of your lawn and landscaping.
Control valves regulate the flow of water from the water source to the sprinkler heads. If you have an automatic timer you will be able to have the times and lengths that your irrigation system runs pre-programmed. Otherwise you will need to turn the valves on and off manually.
Sprinkler heads carry the water to your lawn and landscaping. They should pop up to reach over the turf and retract to be protected from outside elements when not in use. There are two type of sprinkler heads – spray heads and rotor heads.
All of the parts of irrigation systems are connected with pvc pipes and risers.
If you need a brand new irrigation system or just service on your existing sprinkler, please contact R & R Sprinkler and Landscape.