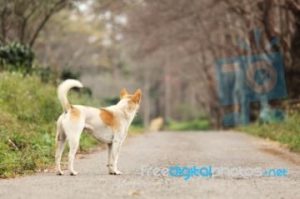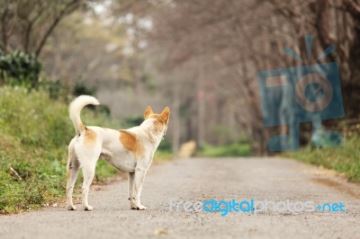 Do you have neighborhood dogs causing damage to your lawn or landscaping?  Consider adding society garlic to the adjacent landscape bed.  If you don't have a landscape bed in the area you may want to consider adding a small narrow one containing a border of society garlic.
Other Uses of Society Garlic
Society garlic is said to ward off animals and pests such as dogs, cats, deer, groundhogs, moles, rabbits, gophers, snails, snakes and a variety of bugs.  If you have a neighborhood dog that continually is going to the bathroom in the same area or disturbing flowers in a certain area of your landscaping, adding one or several society garlic may deter the dog from returning to that area.
Society garlic has a strong pungent odor.  Though it's said that it's not as strong and offensive as regular garlic, it's still said to have a distinctive odor that animals and pests don't care for.
Society garlic are usually planted in rows or as a border.  They can be planted @ 1 foot apart and will not usually grow larger than 2′ wide and tall.  These characteristics make it a great bedding plant (for landscape beds).  It's not aggressive, it's easy to maintain, loves the Florida climate, it's a pretty addition to a landscape bed and it's useful to keep animals and pests away.
If you have questions about how society garlic can be useful in keeping dogs and other animal and pests away from certain areas of your yard or away from some of your delicate landscape plants and shrubs call us today.
Our knowledgeable landscape staff is here to help.  We can even add the landscape beds you want with society garlic and other plants and shrubs in the right combination to add beauty to your property while keeping four legged furry friends at a distance.