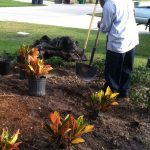 The natural inclination for any homeowner that is re-landscaping their property is for instant gratification.  They are investing a good amount of money into adding or renovating their landscaping and expect to see results right away.
Homeowners need to realize that installing larger, fuller, more mature landscaping has several drawbacks.  The larger plants and shrubs are older than a smaller ones.  The fuller landscaping is already large and will continue to get larger once installed.  Think of how full and bulky it may look in the coming months and years.  Bigger plants are also more expensive to purchase.  Additionally, more mature plants may take longer to root into their new homes.
At R & R Sprinkler and Landscape we believe in planting conservatively by planning for future growth.  All of the plants are going to get larger unless you have selected some of the dwarf varieties which are meant to remain on the smaller side.  Through our 3 dimensional landscape renderings we can show you what a 3 gallon shrub will look like as it grows and fills out.  By doing this you are able to see how full your landscaping will look in the future.  The fuller the landscaping, the more maintenance and manicuring is required to keep it looking under control.
We have decades of design experience behind our employees and can easily determine the proper placement and size of the initial landscaping installation to ensure a neat, well ordered landscape renovation.