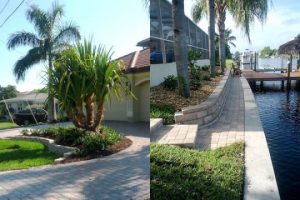 Retaining walls lend an air of sophistication and elegance to existing landscapes, accenting special features that are often lost in flat landscapes that are prevalent in Florida. Often used for preventing erosion in an uneven or rocky ground, their primary purpose in Southwest Florida is for decorative purposes. Shaping the ground and installing a retaining wall provides a lovely focal point that changes the landscape in a dramatic way.
Choosing a Complementary Material
Popular materials that are used for a retaining wall include those that can blend or contrast with the architecture of a home. Brick, natural stone, rocks, and concrete covered with stucco provide great strength, and they last for many years. Heavy timbers are not usually as long lasting, but they introduce a natural appearance that is pleasing in some landscapes.
Selecting a Design
Shapes and patterns that a homeowner may choose include concave or convex curves, straight lines, a semicircular design or a serpentine wall similar to one that encircles the University of Virginia. President Jefferson had admired the meandering walls that he saw in England, and he incorporated them into the design of his university. The wavy line allows the wall to have strength while using only a single row of bricks.
Selecting a serpentine wall lends an English accent to a home, providing an elegant and complementary appearance. Brick blends well with any kind of architectural design. Large estates that have wooded acreage can incorporate natural stone and rock to achieve a rustic appearance that blends well with the natural environment. Rock and stone fence lines are popular in Europe as well, and selecting them adds an architectural dimension to a property that is pleasing.
Landscaping around a Retaining Wall
Placing trees and shrubs adjacent to a retaining wall enhances its beauty, and completing a design with flower beds and ground cover can give a landscape a new look. Working with a professional landscape designer to select an appropriate material and style, homeowners can refresh an existing lawn design in appealing ways. The visual effect that results from a retaining wall refreshes the appearance of a landscape, and it adds an aesthetic touch that reflects well on the owner.
A wall can serve as a background for unique plants and flowers that grow well in Florida. The warm climate and abundant rain provide perfect growing conditions for colorful plants that respond by producing vibrant colors. A banana tree has a beautiful green color that contrasts sharply with the shade of slate or other natural stone, and it produces bright yellow fruit that attracts the attention of family and friends.
A popular landscape plant for Florida gardens is the Bird of Paradise that blooms from early fall until late spring. A mass planting produces an abundance of color that enhances a landscape, and banana trees are easy to grow. With a retaining wall that provides a backdrop for exotic specialty plants, a new landscape can make a home extraordinarily beautiful.
R & R Sprinkler & Landscape
931 SE 11th Avenue
Cape Coral, FL 33990