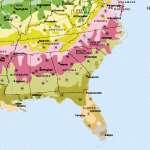 Being in the landscaping industry we are well versed in the "Zone" for which we buy plants, trees, palms and shrubs.  A zone is a climatic condition for the area in which you live.
How Are Zones Determined?
The USDA has developed a map that divides the United States into 11 different zones based on  year round climatic conditions from low temperatures to high temperatures.  The zones change on a + or – 10 degree F change in temperatures.
The USDA Hardiness Zone Map helps the professional landscaper and homeowner select landscaping materials that are best suited for that particular climate.  If someone selected a plant that is suited for SW Florida and tried to install it in Nebraska it's likely that the plant would not survive.
The map was designed to help us select landscaping plants and trees that are suited for the environment in which we live.  Using the map when selecting plants, shrubs, trees and palms gives you the classification of the species to ensure that once it's installed it will survive year after year.
Hardiness Zone For Southwest Florida
In Southwest Florida we border on the 9B / 10A zone of the map.  We reside in a Coastal and Tropical climate experiencing tropical and subtropical temperatures of 86+ degrees for 100 days or more per year.  We experience hot temperatures, high humidity with periods of heavy rainfall of 40 to 60 inches per year in the summer with long periods of drought in the winter months.
Our area supports ideal conditions for year round lush growth of the properly selected landscaping materials.
We Are Here To Help
Don't try to select your landscaping materials by yourself.  Let R & R Sprinkler and Landscape assist you.  We have over 40 years of experience in creating fantastic landscaping environments and can renovate your sprinkler system to accommodate all of your new plant and tree installations.