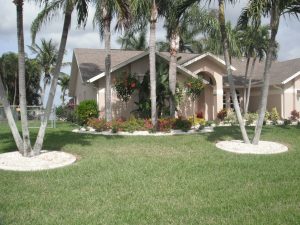 We hope your Christmas was a Blessed one.  Between company, networking and family Christmas events I think we celebrated the holidays 1/2 dozen or more times.  Though we hate to admit it, we are looking forward to getting back into a normal routine.
With the coming of the New Year we are wondering, what are some of your New Year's resolutions?  The resolutions that top most lists are exercising more, losing weight, quit smoking and eating better.  If truth be told we could probably find one or more of these on our lists for more then a single year.
Why not make a new resolution, one that starts with a simple phone call to R & R Sprinkler and Landscape.  Make your 2013 New Year's Resolution to beautify your Florida property with new landscaping.  Pull out those overgrown and unruly bushes, trim those trees, prune those palms, pull out old mulch and add new rock – give your landscaping a facelift.
With our 3D CAD renderings you can see what your property will look like before the work begins.  This allows you to change out plants, trees and ground cover until you find the combination that will make your New Year's Resolution of new landscaping become a reality.
Our experienced staff will advise you of the right kind of sod, shrubs, trees and more for every part of your property.  We look forward to helping your 2013 New Year's Resolution a reality with new landscaping.  Now THAT sounds like a resolution that can be kept with minimal effort!